The twitter updates are always short – under 140 characters each. Plus, one can post updates and follow her friends using the Twitter website, software on his browser, a mobile phone or instant messages. People aren't tied to one device. This makes the twitter so popular.
It has grown far beyond its microblogging roots to become a fabulous tool for social messaging.
Many people use Twitter clients to update their status and read tweets, but there are also a host of useful Twitter widgets that allow you to check your tweets from your blog/website or even let people re-tweet your blog entries.
Display your Twitter updates on your website like this.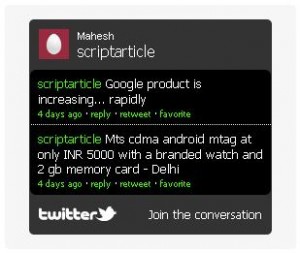 This is one of Twitter widgets that will let you take your status updates and put them up anywhere that allows custom widgets. The great thing about the Twitter Profile Widget is that you can put your tweets on a loop.
Twitter provide very rich widgets, where you can easily manage it's width, height, background colour, text colour, links, number of tweets, loop scroll etc.
You can produce the code by follow the below link
https://twitter.com/about/resources/widgets/widget_profile