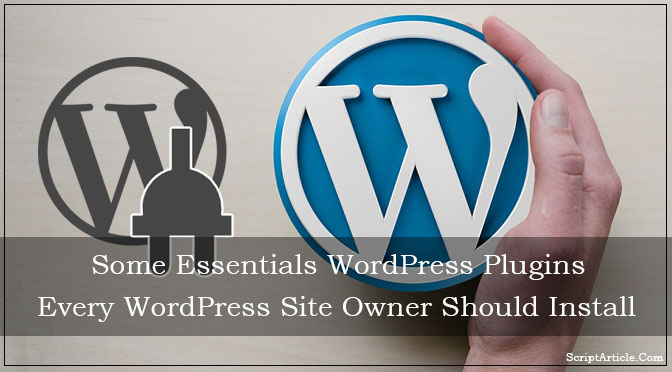 Some Essentials WordPress Plugin every WordPress site owner should install.
Better optimized theme
You should choose the theme as per your website is made for. If your website is a shopping cart then it should be attractive.
If it is just for blogging then it should be very simple and easy to load, so whenever the website owner starts with WordPress, he should choose the theme very carefully and according to your website needs.
There are many WordPress theme available for Free and Paid.
http://wordpress.org/extend/themes/
301 Redirect
In WordPress permalinks, for make your site better in search engine you have to select the proper permalinks for URL.
Suppose you have selected a structure (permalink) for URL, and after sometime you found it not appropriate for your site and SEO.
Or you have found that the POST or PAGE title is not as good for SEO and therefore you need to update that, then it will create a problem for Search Engine Webmaster Tools.
The problem is that the URL (old one) is already crawled by Search engines and it will take time to crawl the website again by the search engine.
During this period, if users come to your site using search engine and click on that URL then it will redirect the user to 404 page of your website.
I think no webmaster like this.
So for that we have a solution called as 301 redirect(permanent) redirect of the old url to new url, we can do the same using .htaccess Tricks.
For making or easing the same we have a very simple plugin called as 301 redirect, according to me every website owner who use WordPress should install this, this will automatically do this job for you.
http://wordpress.org/extend/plugins/wp-seo-redirect-301/
WordPress SEO plugin by Yoast
SEO is a very vast field in web technology, the main concern of SEO is to make the site optimized and popular so that search engines will prioritize your website URL to display it first.
Yoast always proved his superiority in SEO, and they have developed a very good and nice SEO plugin for WordPress, it helps the website owner a lot to optimize and increase the traffic on the site.
http://wordpress.org/extend/plugins/wordpress-seo/
W3 Total Cache
If your website have a lot of images or content and js and css files, then it will slow down your website to load on browser, i.e. your page speed will slow down. There are lot of technique that can be used as the js and css minified. Cache the content and images, so that it will help the browser to load the page speedily.
The 'W3 Total Cache' plugin will help you to speed up the pages loading time.
http://wordpress.org/extend/plugins/w3-total-cache/
Captcha and Contact Form 7
As if your website will popular and people will want to contact with you, for that you need some type of form for contacting?
Contact Form 7 is very easy to use and customizable according to your theme.
http://wordpress.org/extend/plugins/contact-form-7/
Share Buttons for Twitter, Facebook, Google+ & more
In today's world we know how much people and how many times they use social networking website, so to make your website popular, you should add social networking links. That can be used by the user to share the articles. It will help to make your website popular as almost all the guys use internet have some social website account.
If you like this article, I have also given the links for sharing this, so click on those to share this with your friends.
Below WordPress plugin is there to fulfilling the same job in very easy manner.
http://wordpress.org/extend/plugins/hupso-share-buttons-for-twitter-facebook-google/
Facebook fan Page
Facebook fan page increase your website subscribers.
and your website popularity and traffic will increase rapidly.
You can use the below WordPress plugin for the same, it will prove very helpful.
http://wordpress.org/extend/plugins/skysa-facebook-fan-page-app/
Google Custom Search
Google custom search improve the search functionality in your website as you all know how powerful Google is.
So if you add Google custom search in your website then it will handle the search functionality of your site very easily and very fast i.e. the result will display very fast.
It fetches the result from its database i.e. it show the related indexed pages from Google database of your website.
However it is very easy to integrate, but it is more simpler by using the WordPress plugin , if you are using WordPress.
Use the below WordPress plugin, to add Google custom search in your website.
http://wordpress.org/extend/plugins/google-custom-search/
WP-DBManager
A dynamic website is totally depends on its database. Optimized databases always help in speeding up the page load time and optimize the site.
The Database of your website should be safe, so for that you should take backup of your database at a regular interval, so if your website faced some malicious threat attach then you can recover by the backups files and database.
The below WP-DBManager WordPress plugin have almost all the functionality related to the database.
According to me every webmaster should install this plugin to optimize the database and backups.
http://wordpress.org/extend/plugins/wp-dbmanager/
Feedburner Email Subscription
Email subscription is the way by which the user can register for your website and will get all the update related to new post added, update or deleted.
Google Feedburner Tool helps a lot in this and provides a very good functionality related to this.
For implement this Google Feedburner helps and guides to integrate this in your website.
If you are using WordPress then you can use the Feedburner Email Subscription plugin and can enjoy the great functionality it have.
I have also integrated this in my website, If you want to subscribe for my website updates Go to left sidebar and enter your email in the box and submit.
http://wordpress.org/extend/plugins/feedburner-email-subscription/
Better WP Security
WordPress Open source CMS is used by very large number of users, so the way of coding in WordPress and functions URL can be easily known to the hackers.
So you should aware, if you are using WordPress in your website.
Like wordpress admin access URL is usually wp-admin.
Mostly the admin user id is 1 and username is admin, username can also be known easily using the login form submission using wrong password.
Generally the table prefix is wp_.
.htacces, wp-config (file where the main site configurations present) read/write permission and so on.
To protect your website from these all, you should install Better WP Security plugin in your WordPress site admin.
Please take care before installation as it takes effect and update core and server configuration files.
So take backups of files and database before installation and activation of plugin.
If have just installed WordPress then you can install and make active without any head-ache but if your website is in running stage and you have lot of content then you should take care in each and every step of activation, every single step can make your website in unstable state, so be careful.
http://wordpress.org/extend/plugins/better-wp-security/
These WordPress plugins are essentials, i.e. every master should install these in his website.
These will help to make popular your website, increase the web traffic and optimize your website.
Let me know if you face any issue related to above WordPress Plugin.